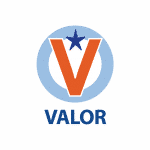 Website Valor Collegiate Academies
OVERVIEW
Valor Collegiate Academies is seeking an exceptional Special Education Life Skills teacher who is excited to share our mission of academic excellence and empowering scholars to live inspired and purposeful lives. This is an immediate opening for the 2020-2021 school year. To keep our community safe, all Valor schools are currently in remote, distance learning until at least the end of winter break.
Valor is one of a small group of schools in Nashville that operates a self-contained special education program. We launched our middle school self-contained special education program in the 2016-2017 school year.  In our middle school, "The Harbor," serves a growing number of students who need extensive support to participate in an academic setting, and, for whom a general education setting, or general education setting paired with special education services is not adequate support. We provide access to curriculum that meets students where they are and pushes them to be members of our community. In Harbor, students participate in academic classes with curriculum modifications and participate with their community for at least 50% of their school day.
KEY RESPONSIBILITIES
Responsibilities of a Valor Teacher may include but are not limited to:
Life Skills "Harbor" Instruction
Modify, prepare, and internalize rigorous, standards-aligned lessons in accordance with Valor's academic curriculum, working closely with content teachers, paraprofessionals, and instructional leaders to deliver lessons. During distance learning, Valor teachers are responsible for delivering both synchronous and asynchronous instruction.
Create lessons to support scholars in a resource setting that need additional practice to reach grade-level standards
Provide students with feedback on work and plan for individual, differentiated learning needs
Use assessment data to refine curriculum and instructional practices
Participate in weekly coaching meetings to internalize content, analyze students' academic and behavior data, and improve your teaching practice
Collaborate with Student Support Team to develop a plan to meet the needs of all learners
Maintain and update scholar gradebook using Valor's grading policy
Manage all students on caseload by updating their IEP's, participating in re-evaluations, and complete bi-weekly progress monitoring.
Student Mentorship
When needed, support content teachers in facilitating student Circle
Respond to students' behavior progress in real-time with recommended interventions
Serve as the main point-of-contact for families to communicate school-wide information
Consistently share students' academic and behavioral progress with families
Track and input daily student behavior feedback to share with families and Student Support Team
School-Based Duties
Enforce, uphold, and exhibit school's values, student management policies and culture
Own arrival duty, recess or lunch duty, and dismissal duty to ensure scholar safety and smooth operations
Participate in parent teacher conferences, orientation, and other school-wide events
Track and input daily student behavior feedback to share with families and Student Support Team
Participate in school-wide professional development programming, including 3 weeks of faculty training over the summer and weekly sessions during the academic year
CERTIFICATION REQUIREMENTS
In adherence with Tennessee Department of Education's licensure requirements, candidates applying to teach this course must:(a) have a valid Tennessee teaching license with the appropriate Special Education endorsements, or (b) can demonstrate they are currently enrolled in an approved teacher's preparation program on track to receive Special Education teacher certification.
Eligible endorsements for this course:
(105) Special Education K-12 , (144) Interventionist K-8 , (145) Interventionist 6-12 , (460) Special Education Modified K-12  , (461) Special Education Comprehensive K-12
CRITICAL EXPERIENCE AND QUALIFICATIONS
You have the ability to execute a rigorous, standards-aligned curriculum and adopt a data driven approach in assessing students' progress
You have a relentless drive to develop your own instructional practice to sharpen your skills as an educator
You have the ability to set and reach ambitious goals, and can handle the intensity required to thrive in a high-performing, results-driven school environment
You thrive on data. You can analyze qualitative and quantitative data to inform instructional decisions
You have the passion and commitment to serve an ethnically & economically diverse student body
You have the ability to model, live, and reinforce the school's core values, norms, and policies
You enjoy cultivating deep relationships with students, families, and staff to create a positive school environment
WHO WE ARE
Valor Collegiate Academies is a high-performing charter school network with a mission to empower our diverse community to live inspired and purposeful lives. Our scholars will graduate with academic skills, social-emotional skills, and positive character strengths that rival the outcomes of the best schools in the world.
At Valor, we believe that we can have the greatest impact on our community by committing to 4 key organizational anchors:
Top 1% Academics: We are passionate about meeting every scholar where they are – whether that is behind or above grade level – and supporting them to grow and excel. We define Top 1% Academics to mean that we are in the Top 5% in the State of TN for both Achievement and Growth.
Powered by Compass:  We believe that in order to live inspired and purposeful lives we must focus on comprehensive human development. The Valor Compass, our nationally recognized comprehensive human development program, is designed to help scholars develop their Sharp Minds as they strengthen their Big Hearts.
Thrive in a Diverse World: Valor was founded upon the belief that having a truly diverse community of families and learners in a thoughtfully designed model allows for everyone to have a higher quality and more meaningful experience. Our scholars and staff members come from various walks of life, racial and ethnic backgrounds, and home lives from within Davidson County.
Built to Last: We believe that being built-to-last means to have strong, long-term operational infrastructure. This is largely driven in part by having talented people, and keeping that talent at Valor. We believe in making the work we do sustainable, by providing our faculty high quality coaching, development, and support.
COMPENSATION
We offer a competitive salary that is determined based on prior lead teaching experience.
Valor participates in Metro Nashville Public Schools' retirement and benefits plan.
Valor Collegiate Academies is an equal opportunity employer. We seek applicants of diverse backgrounds and hire without regard to color, gender, religion, national origin, citizenship, disability, age, sexual orientation, or any other characteristic protected by law.